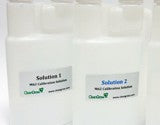 Aptisens
Single probe 2 point calibration solution
Precise 2 part calibration solutions in concentration increases of 10x for the calibration of any Ion Selective Electrode.
Save time in your lab by ordering pre made and pre diluted calibration solutions for any matrix you require.
The solutions come pre diluted in 2 parts, choose either 2-20ppm, 20-200ppm or 100-1000 ppm [300 mL low and high per set] 
 Add a note to your order indicating the concentration range required or if you want a custom solution made.